【Enforcement Report】
     ≪The 3rd Basic Phase of Human Resource development Program≫
Time & Date:January 16, 2017(Mon)10:00-16:50
Venue:Qatar Science Campus Hall, Tohoku University
Topic: Progress Since the Great East Japan Earthquake and Future Prospects, Introduction of
             Research and Technology   
Participants:61 people
Since this was the last time, we invited many reseachers and representatives of the head office of Tohoku University as the lecturers. We also invited the chief editor of  the newspaper company regarding automobiles, and that was a great opportunity for all attendees to discuss the future of automobile industry and human resource development.  There were many students who joined the program this time.
We hope that this program will lead to the next step for the future.
10:00-10:10 Opening address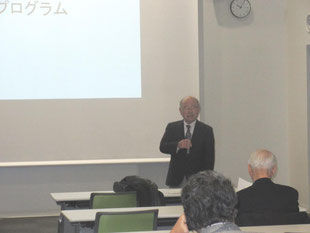 10:10-10:25   Mr. Tokuta Inoue
      "Innovation for Next-gengeration Automobiles part2"
10:25-10:40 Free discussion
10:40-11:10   Mr. Katsuhiko Shionoya
                      "On the results of intellectual property activities at Tohoku University
                        -After becoming the university corporation and the Great east Japan earthquake occurred-"
11:10-11:20 Free discussion
11:20-11:50   Prof. Takahiro Suzuki
      "Proposal of Next Generation Advanced Mobility System from Tohoku Region"
11:50-12:00 Free discussion
12:00-13:00 Lunch meeting
13:00-13:30 Dr. Masayuki Itamura
      "Tohoku restoration and Diecast"
13:30-13:40 Free discussion
13:40-14:10 Mr. Yoshinori Yajma
      "Efforts for the recovery from the Great East Japan Earthquake"
14:10-14:40 Mr. Kenji Takahashi
                      "Securing and training human resources in the automobile industry"
 14:40-14:55 Dr. Naoto Miyamoto 
      "Development of High precision and portable Kinematic GNSS"
 14:55-15:05 Free Discussion
15:05-15:10 Break 
15:10-15:40   Prof. Osamu Ichinokura 
       "Recent motor technology"
15:40-16:10 Prof. Hiroshi Inomata 
      "A unique solvent characteristics and applied technology regarding Super critical CO2 "
16:10-16:25 Dr. Nozomu Hatakeyama 
      "Utilization of Computational chemistry and AI for Next-generation automobiles"
16:25-16:40 Free discussion
16:40-16:50  Closing address